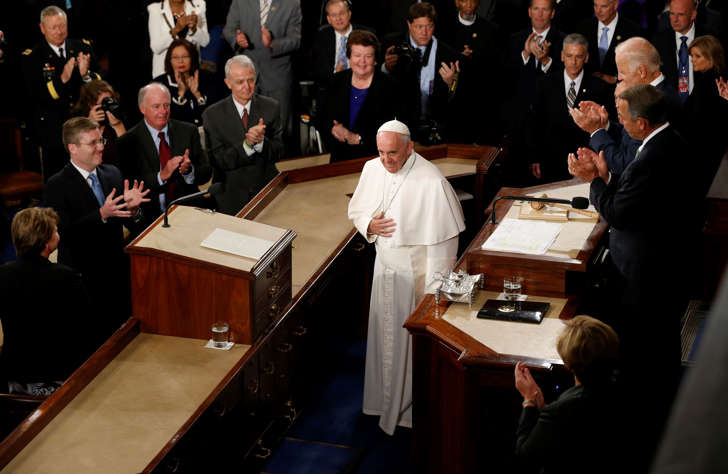 © REUTERS/Jonathan Ernst Speaker of the House John Boehner (R) and Vice President Joe Biden (R, top) applaud as Pope Francis arrives to give his speech to the U.S. Congress in Washington, September 24 2015.WASHINGTON — Pope Francis, the spiritual leader of 1.2 billion Catholics, challenged Congress and by extension the mightiest nation in history on Thursday to break out of its cycle of polarization and paralysis to finally use its power to heal the "open wounds" of a planet torn by hatred, greed, poverty and pollution.
Taking a rostrum never before occupied by the bishop of Rome, the pontiff issued a vigorous call to action on issues largely favored by liberals, including a powerful defense of immigration, a critique of the excesses of capitalism, an endorsement of environmental legislation, a blistering condemnation of the arms trade and a plea to abolish the death penalty.
In particular, Francis beseeched a nation that generates a disproportionate share of the world's wealth to not let money drive its decisions at the expense of humanity. "If politics must truly be at the service of the human person, it follows that it cannot be a slave to the economy and finance," he told a joint meeting of Congress in an address that cited American icons like Abraham Lincoln and the Rev. Dr. Martin Luther King Jr. "Politics is, instead, an expression of our compelling need to live as one, in order to build as one, the greatest common good."
But in his much-anticipated speech, Francis also defended religious liberty and the traditional family at a time when the United States has just legalized same-sex marriage and a Kentucky court clerk went to jail rather than issue marriage certificates violating her religious beliefs. He was less explicit in condemning abortion but called for a defense of life at "every stage of development."
"I cannot hide my concern for the family, which is threatened perhaps as never before, from within and without," he said at the end of his speech, delivered in slow, cautious English. "Fundamental relationships are being called into question, as is the very basis of marriage and the family. I can only reiterate the importance and, above all, the richness and the beauty of family life."
Francis became the first pope ever to address a joint meeting of Congress, a milestone in the journey of the Catholic Church in the United States, and it generated enormous interest. Lawmakers, aides and invited guests jammed the historic chamber of the House of Representatives, while 50,000 more people were invited to watch on jumbo screens on the West Lawn of the Capitol.
His high-profile address came at a time of deep partisan and ideological ferment over divisive policy questions that have so fractured the Congress that it is just days away from a government shutdown. Both sides were looking to his words for moral support for their arguments from a figure deliberately resistant to clean political definitions.
In the end, both sides could walk away citing parts of his message. But the liberal agenda items in his speech were explicit and clear while the conservative ones were more veiled.
While he checked boxes in calling for religious liberty and defending the family, the heart of his address, and the most time, was dedicated to aspects of Catholic teaching embraced by progressives, especially the overriding need to help the poor and destitute. He was at his most passionate in embracing immigration, alluding to his own family's history of moving from Italy to Argentina, where he was born.
"We, the people of this continent, are not fearful of foreigners, because most of us were once foreigners," Francis said. "I say this to you as the son of immigrants, knowing that so many of you are also descended from immigrants."
"On this continent," he continued, "thousands of persons are led to travel north in search of a better life for themselves and for their loved ones, in search of greater opportunities. Is that not what we want for our own children? We must not be taken aback by their numbers, but rather view them as persons, seeing their faces and listening to their stories, trying to respond as best we can to their situation."
He cited the do-unto-others Golden Rule. "The yardstick we use for others will be the yardstick which time will use for us," Francis said. "The Golden Rule also reminds us of our responsibility to protect and defend human life at every stage of its development."
While that represents typical code for abortion, Francis segued immediately to calling for the abolition of the death penalty. "I am convinced that this way is the best, since every life is sacred, every human person is endowed with an inalienable dignity and society can only benefit from the rehabilitation of those convicted of crimes," he said.
He also warned of the excesses of globalization, though in far more measured tones than he has in the past, when he used fiery language and the memorable phrase "dung of the devil" to describe unbridled capitalism. With some observers long wondering whether he has forsaken the middle class in his focus on the poor, he made a point of reaching out to working Americans who are "paying their taxes" and sustaining a society. But his emphasis was still on the neediest.
"I would encourage you to keep in mind all those people around us who are trapped in a cycle of poverty," he said. "They too need to be given hope." He added that "it goes without saying that part of this great effort is the creation and distribution of wealth." While "business is a noble vocation," he said, it must be "an essential part of its service to the common good."
He was less restrained about the arms trade. "Why are deadly weapons being sold to those who plan to inflict untold suffering on individuals and society?" he asked. "Sadly, the answer, as we all know, is simply for money – money that is drenched in blood, often innocent blood. In the face of this shameful and culpable silence, it is our duty to confront the problem and to stop the arms trade."
© Cliff Owen/Associated Press Pope Francis on Thursday before arriving at Capitol Hill to address Congress.How influential his message will be in Congress remains to be seen. He was invited by Speaker John A. Boehner, a proud Catholic Republican from Ohio, who has tried for 20 years to get a pope to come to Capitol Hill. His Democratic counterpart, Nancy Pelosi of California, is also a Catholic with a strong affinity for the pope.
In a video previewing the speech, Mr. Boehner said he was eagerly anticipating the appearance. "There's a lot of interest in what the pope is saying, his outreach to the poor, the fact that he thinks people ought to be more religious," he said. "He's got other positions that are a bit more controversial, but it's the pope."
While Mr. Boehner's invitation to Prime Minister Benjamin Netanyahu of Israel to address Congress to criticize President Obama's negotiations with Iran provoked a partisan furor, the pope brought the parties together. It has been a long time since a world figure who commands as much authority as Francis has addressed Congress.
Not that long ago, the prospect of the head of the Catholic Church addressing Congress would have been unthinkable. Catholics in politics were a source of suspicion and a subject of slander for generations. Even as John F. Kennedy became the first Catholic elected president, he felt compelled to defend his faith by asserting that he would not take orders from the pope.
Today, the pendulum has swung significantly. The Congress that Francis addressed Thursday includes 138 House members who are Catholic and 26 senators, or nearly 31 percent, compared with 22 percent of the overall adult population. Not only are both House leaders Catholic, but so is Vice President Joseph R. Biden Jr., who serves as president of the Senate.
The pope's speech was the longest and most challenging English-speaking appearance of his papacy. Francis, who speaks native Spanish and fluent Italian, has admitted his discomfort in speaking English. He spoke some English during a 2014 visit to South Korea.
In his White House speech on Wednesday, Francis struggled with some words and pronunciations but showed much improvement. Vatican officials and friends of the pope say he studied the language regularly this summer.
In addition to citing Lincoln and King, Francis mentioned two American Catholics to make his points, Dorothy Day and Thomas Merton. Both lived radically simple lives, close to the poor and rejecting ambition — symbols of the Francis model of humility and devotion.
Ms. Day was a convert to Catholicism who founded the Catholic Worker movement that served the poor; she also had an abortion to her deep regret and urged other women not to follow her example. Mr. Merton was a Trappist monk and scholar who wrote on social justice and promoted interfaith understanding.
"A nation can be considered great," Francis said, "when it defends liberty as Lincoln did, when it fosters a culture which enables people to dream of full rights for all their brothers and sisters as Martin Luther King sought to do, when it strives for justice and the cause of the oppressed as Dorothy Day did by her tireless work, the fruit of a faith which becomes dialogue and sows peace in the contemplative style of Thomas Merton."